Fort Lauderdale Beach
, Florida, has always been celebrated for its idyllic climate, azure waters, and vast sandy beaches, earning its reputation as a haven for beach lovers and vacation enthusiasts. Yet, in recent years, this coastal paradise has undergone a remarkable evolution, solidifying its status as a luxurious lifestyle destination that has captivated the discerning tastes of luxury buyers nationwide. From the graceful presence of mega yachts gliding along the waterways to world-class restaurants helmed by internationally acclaimed chefs, Fort Lauderdale Beach has seamlessly transitioned into the preferred choice for those seeking the epitome of coastal living. Join us as we delve into the six compelling reasons why luxury has become the prevailing trend on Fort Lauderdale Beach.
1. Designer Shopping & Michelin Star Dining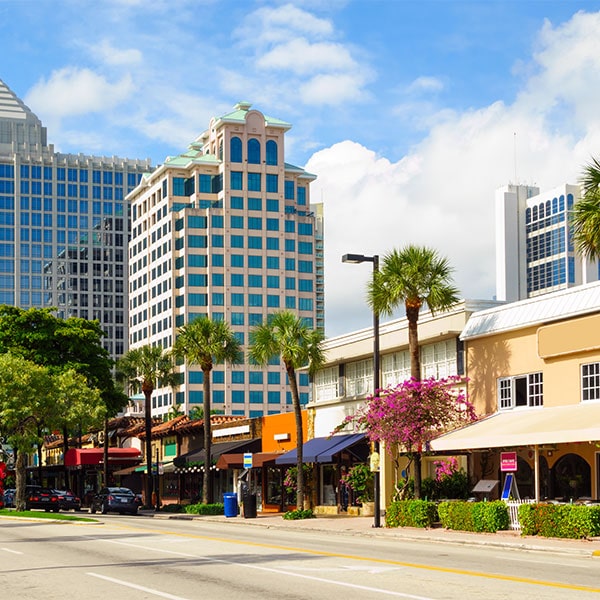 From dawn to dusk, Fort Lauderdale Beach surrounds its residents with a never-ending list of luxurious stores and tantalizing restaurants.
Las Olas Boulevard
stands out as one of South Florida's most eclectic destinations, with fashion boutiques, contemporary art galleries, and dozens of global luxury retailers lining the pedestrian-friendly streetscape.
Moreover, with The Galleria Mall just a short five-minute drive away, and convenient access to Aventura Mall, Sawgrass Mills Mall, and The Colonnade Outlets, Fort Lauderdale Beach is a shopper's paradise.
When it comes to dining, Fort Lauderdale boasts a globally inspired culinary scene. Waterfront steakhouses including
Steak 954
and
Mastro's Ocean Club
are renowned for their dry-aged beef, locally caught fish, and a global selection of fine wines and spirits. In the Galleria Mall,
Seasons 52
offers a farm-to-table experience, with a seasonally inspired menu that excites the palate. Fort Lauderdale is even home to exclusive, Members-only dining experiences, including
The Secret Garden
in The Pillars Hotel.
Recognized as the
Yachting Capital of the World
, Fort Lauderdale is built around endless canals, with over 300 miles of waterways connecting the Intracoastal Waterway, Atlantic Ocean, and Gulfstream waters. Water taxi services and authentic Venetian gondola tours offer stylish ways to explore the city, while thrilling sportfishing and scuba diving adventures await just offshore.
Boasting over 100 marinas, docking is plentiful and conveniently located near shops, restaurants, and entertainment. The redevelopment of
Las Olas Marina
will cater to mega yachts up to 250 feet in length, solidifying Fort Lauderdale's appeal to boating enthusiasts worldwide.
3. A Mecca for Professional Sports
Fort Lauderdale shines as a thriving sports epicenter, drawing athletes, celebrities, and elite travelers from around the world to witness the action of some of the nation's finest teams. South Florida provides an exciting scene for avid supporters of any sport, with the FLA Live Arena hosting the NHL's Florida Panthers, the Kaseya Center serving as the home arena for the NBA's Miami Heat, and loanDepot Park showcasing the talents of the MLB's Miami Marlins.
Hard Rock Stadium is the home of the NFL's Miami Dolphins and serves as the venue for prestigious events including the Tennis Miami Open and Formula 1's Miami Grand Prix. Adding to the excitement, DRV PNK Stadium proudly hosts David Beckham's Inter Miami soccer team, which recently welcomed the renowned soccer star Lionel Messi to their ranks. Thanks to the remarkable array of sports teams and events in the region, sports enthusiasts in South Florida can look forward to year-round excitement.
4. 5-Star Resorts Emerge on Fort Lauderdale Beach
With a wide range of luxury hotels lining the Atlantic Coastline, Fort Lauderdale has solidified its position as a premier destination for high-end travel. Visiting family and friends will find an abundance of five-star options easily accessible. The Ritz-Carlton, Fort Lauderdale offers a distinctive vintage charm, featuring balconies, a full-service spa, and top-rated restaurants to satisfy every palate.
Reflecting the classic yacht club lifestyle, Four Seasons Hotel and Residences Fort Lauderdale exude modern elegance and unparalleled service. The AC Marriott Hotel showcases contemporary guestrooms with spacious work areas, floor-to-ceiling windows, and captivating waterfront views. For an intimate experience, The Pillars Hotel & Club offers 18 individually decorated guestrooms, along with business suites, a spa, and on-site amenities catering to every need. These luxury hotels have further enhanced Fort Lauderdale's reputation as a sought-after destination for those seeking unparalleled elegance and comfort.
5. Exceptional Access From Around the World
Getting around town is equally convenient, with the
Brightline
high-speed train providing effortless access to and from Miami and Fort Lauderdale Airports, with a station located just off Las Olas Boulevard. The Brightline connects South Florida's finest destinations for unforgettable day trips, from Palm Beach's renowned Worth Avenue and thrilling theme park attractions in Orlando to Miami's South Beach.
6. Oceanfront Penthouse Residences – A Rare Find in South Florida
Although the coastline of Florida is lined with towering condominiums, it's rare to find new construction in the heart of a prime destination like Fort Lauderdale. Fortunately, Fort Lauderdale Beach is the exception to the rule and Kolter Urban's two towers at
Selene Oceanfront Residences
will be the area's tallest buildings. The
Kobi Karp
design will soar to 300 feet, with flow-through residences and expansive private terraces providing spectacular oceanfront, city skyline, and Intracoastal Waterway views.
A carefully curated collection of indoor and outdoor
amenities
will cater to residents of all ages and stages of life. Upon arrival, residents will be greeted by dedicated lobby staff with concierge and valet service, Inside, The Wave Entertainment Lounge and The Seasons Gathering Lounge offer premium entertainment areas, featuring a wine wall, catering kitchen, large communal dining area, and an Event Terrace. Overlooking lush gardens, a state-of-the-art Fitness Center will offer cardio with a tropical twist, along with a dedicated Movement Studio. Outside, Selene's elevated Seaview Amenity Deck boasts breathtaking ocean views, with a resort-style pool, 75' lap fitness pool, spa, poolside cabanas, outdoor kitchen, multiple fire pit lounge areas, and a dog park and dog wash for four-legged companions.
With construction underway, the luxurious condominium tower will be delivered in 2024, providing a private sanctuary of oceanfront opulence in one of the most sought-after destinations in the world. The community is nearly 80% sold, but the newly released penthouses and some of the area's highest residences remain available. For more information on the remaining residences, the Selene Presentation Gallery is open Monday through Saturday and Sunday by appointment only at 2591 E. Sunrise Blvd. Please stop by or call 954-833-1911 to schedule a private appointment. To preview a virtual tour of the community or to see floorplans, visit
SeleneFortLauderdale.com
.