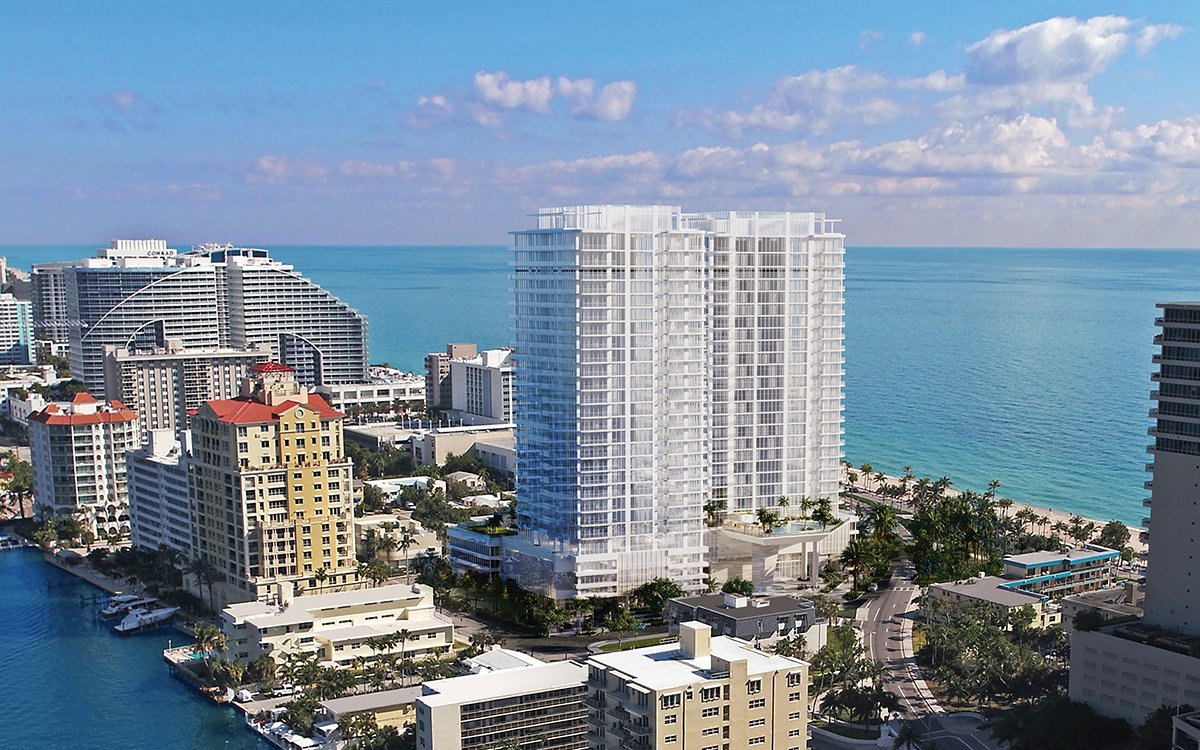 April 14, 2021 Deirdra Funcheon, Bisnow South Florida
Kolter Urban, a developer based in Delray Beach, Florida, announced today that it is launching sales for two tall, slender towers that will rise 300 feet above sea level on Fort Lauderdale Beach. They are slated to be the beach's tallest structures.
Located at 3000 Alhambra St., the beachfront project will be called Selene Oceanfront Residences. Its towers are designed to be 26 stories with 204 units and 5,300 SF of restaurant space.
According to the Sun-Sentinel, Kolter Urban acquired the 2.6-acre site in 2017, when the company swapped with the Fort Lauderdale government for a different parcel that had historical significance.
After an 18-story design was proposed but nixed in 2018, commissioners last year OK'd the new design and raised the maximum building height from 240 feet to 300 feet.
Selene's two- and three-bedroom units, which range from 1,400 to 3,200 SF, will start at $900K. Construction will begin in November, with expected completion by early 2024.
"The inspiration behind Selene was to create thoughtfully designed 'homes in the sky' on Fort Lauderdale's iconic beach," Kolter Urban President Bob Vail said in a statement. "Residences at Selene perfectly couple the space and comfort of living in a traditional home with the luxury and sophistication of high-rise oceanfront living."
Kolter Urban has developed about $3B of residential projects, including some 2,800 waterfront units, in Florida and Atlanta.
Fort Lauderdale has been going through a development boom, even though critics have worried about traffic impacts, flooding, infrastructure woes and sea-level rise. A city website details 32 approved projects in the development pipeline and 144 projects in review.
On Fort Lauderdale Beach, a Four Seasons will open this year, a mixed-use project with 124 hotel rooms is being developed on a site where the Bahia Cabana Hotel once stood, and the Bahia Mar is slated for redevelopment with 651 apartments.